ANGELA VELTRI
My name is Angela Veltri and I am the former owner of Kix 4 Chix Kamloops and I have been instructing kickboxing classes since 2008. In 2018, I teamed up with Delrae Kohnert of Ladies Only Fitness to create a kick-ass new program called Ladies KickFit.
This partnership allowed me to spend more time with my two sons and hobby farm, but I could never stay away from teaching kickboxing or the amazing women at Ladies Kickfit! Kickboxing is truly a physical and emotional passion for me. I love seeing how empowered women of all ages, shapes and fitness levels are inspired by the program and what amazing bonds are formed because of a mutual love for kickboxing.
There is no such thing as judgement or self-doubt when you take a class with me, only a desire to inspire you to push yourself harder and farther than you have ever thought possible!

AMY BAIK (on Mat Leave)
I have been kickboxing for 8 years and I love what it has done for me emotionally and physically. My regular job with BC Wildfire Service can be extremely challenging and stressful, which I know all you ladies can relate to! Kickboxing has let me become a better person for myself and my family including my furry best friend Brutus.





I love teaching classes as it allows me to share my passion with so many amazing women. My favourite type of class to teach is strength based where you are physically drained after but so pumped with positive vibes. My attitude in life is to "Kill people with kindness" which you will notice in my teaching style where I am welcoming and constantly positive to ensure you get the most out of each class. My biggest weakness is my dj skills so feel free to send me your favourite workout beats.




KELSIE MASS
I started kickboxing with Kix 4 Chix in 2011 when I was a student at TRU, once graduated I would pop into a class every now and then when I passed through Kamloops. I moved permanently to Kamloops in 2017 and I started kickboxing regularly again. In summer 2018 I became an instructor for Ladies KickFit when the program joined Ladies Only Fitness.

I love teaching you ladies and it brings joy to my week when I get to be in the room with you. I like watching ladies progress and get comfortable with the combos and with their fitness. But I also like to challenge them to do things just a little differently to challenge the brain as well.

When not in the KickFit room, you can find me at Kamloops Hot Yoga, Stake Lake cross country skiing and on the water, preferably on the coast in a sea kayak.

ALYSSA SCHULTZ
I started kickboxing when I first moved to Kamloops in 2012. I had never been particularly athletic or enjoyed working out, but kickboxing taught me that a workout didn't have to be "work." Kickboxing was just fun and badass! I made a lot of good friends and had so many great women around to motivate me to work my butt off!
I started teaching in 2014 when I was back in Vancouver to finish my degree. I immediately fell in love with teaching! I love motivating my girls (aka. Yelling in the most positive ways!) and finding new ways to be innovative so that every class of different.
I was born and raised in Vancouver, and have really settled into life in Kamloops since moving back in 2017. Outside of the gym, I am a Civil Engineer at a small firm in Kamloops. I also love making music, hiking, and hanging out with my cat, Angus.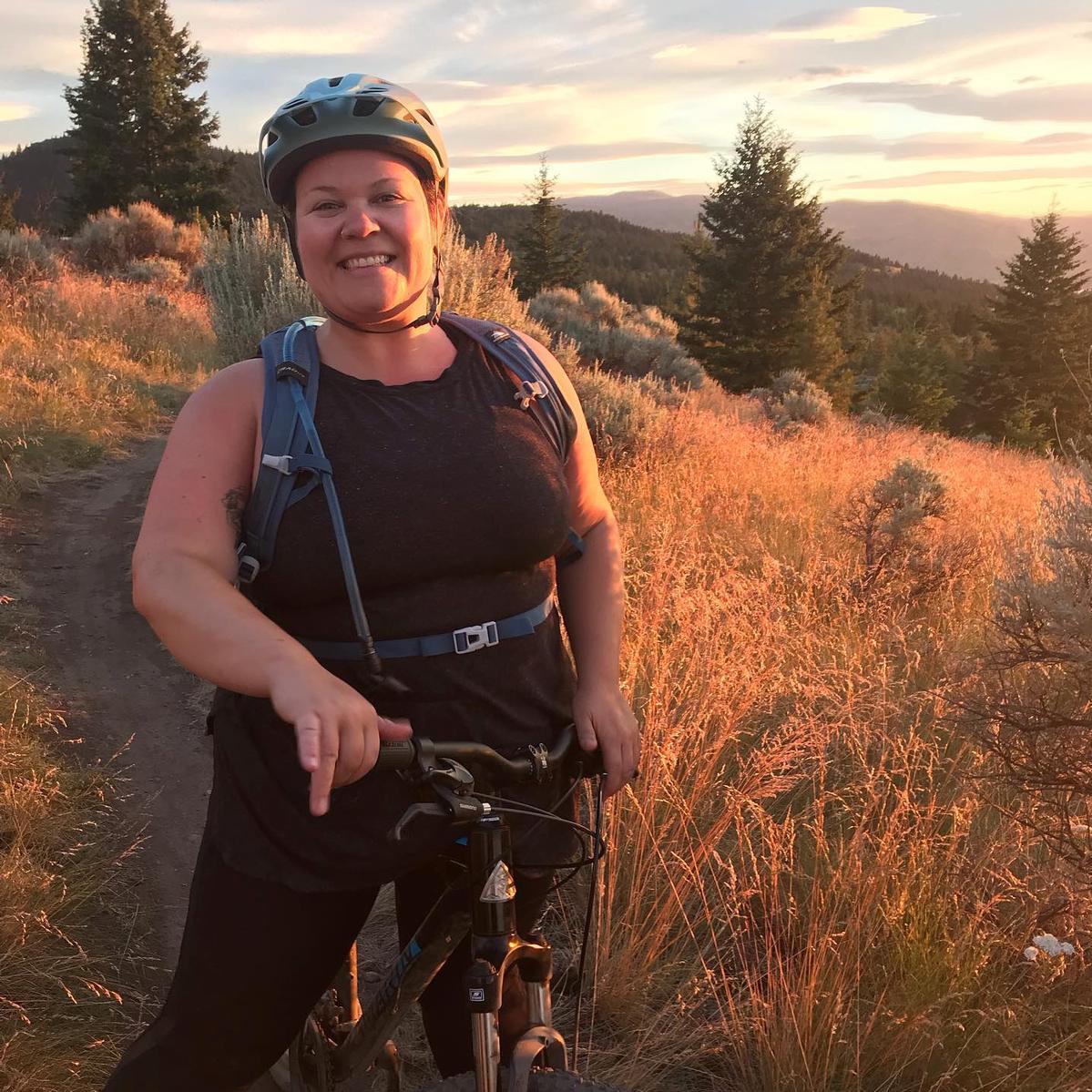 ROXANNE KENNEDY (Roxy)
Things I love: Wine, Getting Sweaty, Lipstick, and KAMLOOPS!!!
11 years ago I stumbled into a kickboxing class - no confidence, terribly out of shape, unhealthy, shy, nervous and terrified of group fitness. Fast-forward two years, I'm 80 lbs lighter, in the best shape of my life, and in no way a shy in a group fitness setting anymore. Fast forward to today… I've been teaching for NINE years. Eight years at Kix 4 Chix and just recently 1 year at our new home Ladies KickFit! I love being an instructor at Ladies KickFit because the class design encourages us to create our own class structure, and I feed off a new and exciting classes.
When arriving to a 'Roxy' class, you can expect the music to be LOUD and the strikes to be FAST and to probably have some strange sh*t yelled at you, I'm what you'd call a weird human.
??
I have an ongoing challenge with myself to make each and every class unique, fun, effective and never the same. There is nothing I love more than using my different teaching techniques to see what makes a strike or combo 'click' with members, the joy on their faces when they master a strike they have been struggling with is what has kept me around for all these years. I love it.
I work at Tourism Kamloops, which basically means it is my job to show the world how awesome Kamloops is, and I love doing it! If you have questions about Kamloops or how to sharpen your strike technique… I'm your girl!
TARA DENTON



I joined kix 4 chix in 2012 and became an instructor in 2014.

I have always been involved in other sports, health and wellness has always been an important part of my life. A girlfriend and I decided to try a free kickboxing class and I have been involved ever since! Kickboxing is not just about fitness, it is about empowering women, becoming strong mentally and physically and becoming part of an amazing group of non judgemental women.

As an instructor there is no greater feeling than to watch your students become confident in their skills, to hear them strike the heavy bad with power, and to kick higher than they did the last class. I have seen lasting friendships made and support both inside and out of the gym from the members.